Prelude
To start off, I had never ever been impressed by a mobile phone camera, nor had I ever considered one usable, if not just improper, photography tool, until this moment.
However, the Vivo X60 Pro+ 5G is truly impressive, to my astonishment. It's a phone built for semi-professional photography. Despite high battery drain during intensive photography usage, charging is also stunning fast to reload your shutter moments. It is possibly the best phone you can buy as a photographer.
Quick Overview
A very fast 5G and WiFi 6 phone with a DCI-P3 AMOLED display and incredible cameras by Carl Zeiss producing truly impressive image quality at professional level with expert features for photographers. All-rounded single-device phone camera from interior, landscapes to portrait and children photography.
Price: A hefty ~ USD 1,000 / ~ EUR 800 . !!
Brief Summary
First things first, I have no affiliation to any vendors.
By the time of writing, the successor model, X70 Pro+, has just been released, only after less than 7 months of the official release of the X60 series, but only purchasable 3 months (around April, 2021) before this, and only in very limited regions of the world, and very limited distributors. Even in Beijing, it took me quite a lot of effort to find a showroom with demo machines of the entire series. Nevertheless, after stringent comparison in real-life scenarios and specifications, both do not differ much, and in some situations, the predecessor performed slightly better.
We mainly focus on the camera quality in this article, which doesn't merely attribute to its larger CMOS sensors also used by other manufacturers, however, is the unified optical engineering by Carl Zeiss, including the imaging algorithms, I believe, and the functions made available for professional photography.
Yet, the Pro+ model shines with exceptional image quality, significantly in comparison to its less expensive siblings (it's very difficult to convince me to make such bold a statement), due to the Carl Zeiss T* coating only available exclusively on this model, while the just newly released X70 Pro (without Plus) comes already with the decades-renowned T* coating, however, with plastic device build quality. We would elaborate later in the article.
Quick specs about the cameras on the Vivo X60 Pro+:
Rear Cameras
#
Lens Type
CMOS Sensor
Optical Format


(Vidicon)

Sensor Diagonal
Focal Length
in 35mm
Aperture
1
Ultra-Wide Angle 114° Lens
(with mechanical gimbal stabiliser)
Sony Exmor IMX598
1/2"
8mm
3mm
16mm
f/2,2
2
Wide Angle Main Lens
Samsung ISOCELL GN1
1/1.31"
12.21mm
7mm
23mm
f/1,57
3
"Standard" Lens for Portraits
Samsung GD1 (S5KGD1)
1/2.80"
6.4mm
8mm
50mm
f/2,1
4
Telephoto Lens (5x)
Omnivision OV08A10
1/4.4"
< 4mm
12mm
125mm
f/3,4


All rear lenses by Carl Zeiss T* ASPH












Quick Ref: 135 (35mm film) format sensor diagonal: 43mm. 135 equivalent focal lengths are calculated based on ratios to sensor diagonals.
Notice that I purposefully omitted the stated sensor pixel resolutions. Given the SNR ratios of tiny sensors, diffraction effects and limitation on optical corrections for small lenses on a small device, it's technically non-sense to produce images of 50MP of usable pixels. Otherwise, Teledyne Dalsa, PhaseOne, Hasselblad and Leica would have all gone bankrupt buried in graves years ago.
(The Vidicon notation is absolutely annoying and deliberately misleading used in marketing - "sales through obfuscation and ambiguity"). More information here: Direct tabular approach , and sensor format marketing history.
As a photographer, I was looking out in previous months if there existed a mobile phone which could produce decent images to replace my Huawei. I started searching for Zeiss and discovered Vivo. I decided to give the lesser popular Chinese brand a chance and ditched Nokia and acquired the Pro+ model in May, 2021.
Other useful quick specs:
Storage
256 GB
(512 GB model available on the X70 Pro+, USD 1,200+)
RAM
8 GB (+3GB swap, 12 GB in total)
TF Card
No
SIM Slots
2, both 5G
Colour Profile
DCI-P3 (Camera and Screen)
It's rather disappointing that there's no micro-SD (TF) card slot available as a photography device, with raw DNG file outputs.
The imaging sensors used on the cheaper X60 Pro (non-plus version) are much more inferior. Device build quality is very plastic, with a much lower charging power, and there's no T* lens coating either. Price difference is, however, a US$ 250 / EUR 200.
Sample Images
Before all the details start, here are the images taken with this phone, meticulously well-balanced handheld and best optimised with lowest ISO possible at the scene under "Pro Mode":
All straight modifications from phone, no Photoshop or PC editing software used.
More stunning images by this phone in the album Photos By Vivo X60 Pro+ 5G.
After first batch of trial captures, I found them simply breathtaking. The dynamics were sensational. Photos were exceptionally sharp from centre to the corners.
A little surprised while testing them out for hours at the showroom to figure out the truth or if it was just another marketing hype with brands, I was rather more stunned right after the delivery came to my door and tested it in real and planned scenarios. One of the factors it could produce highly saturated images in high contrast is the lens coating, which reduces flares and ghost images between optical elements. (Note: Lens coating does not directly improve resolution, or resolvability, nor that it helps in any way reducing chromatic or spherical aberrations.) Therefore, the Pro version does give significantly less appealing images, especially in complex light situations and HDR situations, while not of photography grade, but still impressive enough.
Image Quality
1. Contrast and Saturation - About Zeiss' T* Lens Coating
The T* coating has been a marketing name by Zeiss. The lens coating reduces flares and reflection between lens elements (total-internal reflections) and therefore drastically improves image contrasts and saturation. While it's under constant development and evolution, its formula improves over time and therefore could differ from lenses produced from different generations. Its colours being observed by human eyes could therefore be different across generations of lenses. The most outstanding examples with the T* coating are obviously lenses produced for the Hasselblad for decades, notably the Carl Zeiss Superachromat 250 T* and 350 T*, and all other lenses more practical for consumer and professional usages such as the Distagon CFE 40 IF T* series, Planar C 100 T* series, Sonnar CF 180 T* series, which all have seen their footprints in outer space, until their marriage broke apart.
Technical details about the Carl Zeiss T* lens coating for glare reduction and contrast enhancement is described by Dr. Vladan Blahnik and Dr. Benjamin Völker from Zeiss here: Technical article on T*-coating and reduction of reflections in lenses
2. Sharpness - Motion: Image Stabilisation by Mechanical Gimbal (Gyroscope)
Despite all the very best and most expensive equipment available on one's hand, the real factor behind explicitly sharp images captured in perfect quality obviously depends the operator's skill, which indeed, is the defining factor.
The automatic electronically controlled, calibrated gimbal on the ultra-wide angle lens compensates physical vibrations during capture with 2 axles of freedom, making handheld captured images much sharper. It even shows you a G-force indicator as vibration reference!!!
Most of the images produced were blurry not solely due to the quality of the capturing devices, but one simple albeit complex reason: motion. Reducing to eliminating motion during image capturing is a technical skill that has to be trained and well-experienced, regardless of sensor / film format. Even minor motions not realised by the camera operator has a large impact on image quality, especially with high magnification ratios - telephoto focal lengths. However, in a lot of cases, setting up or carrying a tripod isn't convenient or sometime not even feasible. It even limits creativity sometimes. The invention of the 2-axle mechanical gimble to offset the motion is ingenius. Already proven in the field, it does help generating extra-ordinary sharper images handheld, even at fast shutter speeds.
The trick to take sharp images with virtually no grain when handheld with the X60 Pro+, is to manually reduce ISO value as much as possible, using some kinds of support on your arms if possible, turn on the G-force indicator, take and hold a deep breathe, and take the shot. Let the internal gimbal to compensate your minor movements. The result is clearly astonishing.
However, it is only available on the ultra-wide angle camera.
3. Sharpness - Sensor Size, Pixels, Usable Resolution
Clearly, the use a larger sensor / film size has a clear advantage in resolution and image enlargement, by reducing the magnification ratio. However, there are compromises. A larger sensor requires more complex design of optical elements, and much more precise manufacturing requirements in production of lenses - spherical aberrations. A large sensor size also reduces the usable aperture size, which in turn, makes the lens slower. Nevertheless, in such small format, the disadvantage is minimal in comparison to a much higher signal-noise-ratio provided by a larger sensor.
The Samsung GN1 sensor on the main moderately wide-angle camera of the Vivo X60 Pro+ has a diagonal of 12.2mm, 1/3.52 of a full-frame 35mm 135 format camera, 48MP.
However, it is due to the smaller sensor size compared to full-frame and medium format cameras, SNR ratio is still low. Therefore, it is still susceptible to noise and visible reduction of resolution at slightly higher ISO settings, even at ISO/ASA 250 (DIN 24), especially on HDR captures at the darker regions.
4. Sharpness - Impressive Optics and Lenses, Wide-Angle to Telephoto
The optical design is clearly a major factor. Chromatic and spherical aberrations are enemies of image sharpness. The images produced are of truly Zeiss quality with virtually no visible aberrations. All 4 lenses are equally impressive despite a much smaller sensor size used on the 5x telephoto lens.
I have yet to see better quality images captured by other mobile phones. The One Plus 9 Pro Plus with Hasselblad colour optimisation is second to it.
Functions Designed by Professionals for Professionals
One of the repeated astonishments during the test was the features available in the "Pro Mode". Clearly, the designers for this entire imaging product were not novice or specific brand fans who have no idea about images but just to pay. I'd tend to believe they are Zeiss engineers rather than from Vivo.
Histogram!
It offers a histogram even on the live view capture screen! Absolutely for professionals who need exact measures on exposures adjustments.
Attitude Indicator - Horizon
For accurate composition, especially on architectures and interior.
ISO and Exposure Value!
For professionals who fine-tune their images with the lowest grain and exposures. The EV value is clearly a professional feature.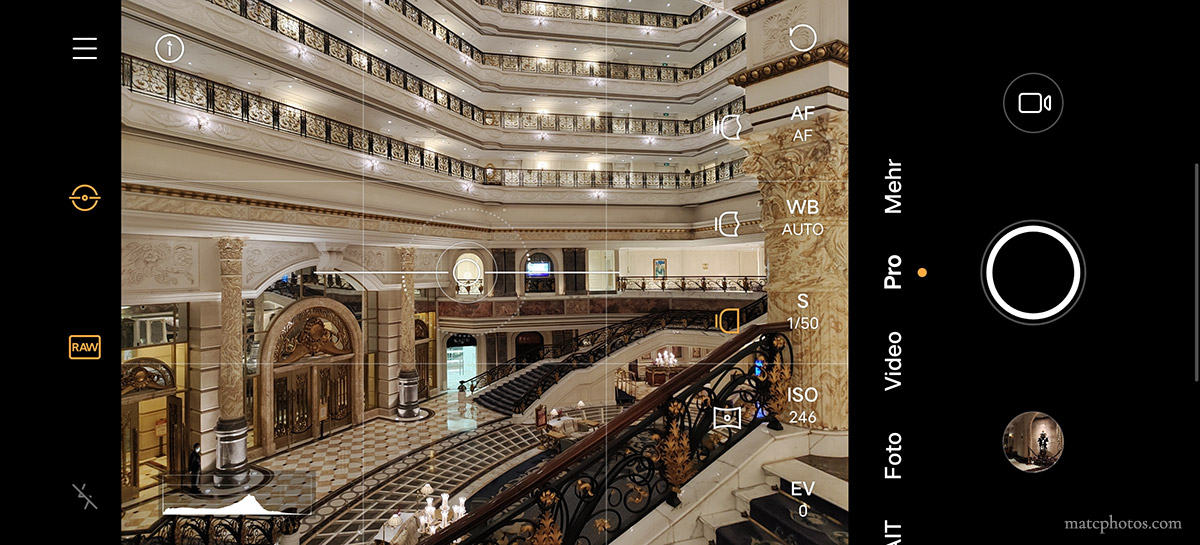 Grid Lines, Self-Timer, Slow Shutter!
Grid lines is clear to photographers: Composition and ratios. Self-timer is useful for photographers who stabilise the phone on a tripod in attempts to achieve the sharpest images possible with virtually no noise with slow shutter speeds. While the intentional slow shutter speed function allows creativity for blurring motions of nearby subjects, without the use of neutral density filters (gray filters, or light reduction filters).
For those who love portraits: 2x and 5x Telephoto Lenses, 32MP Sensor and Zeiss Biotar Bokeh Style
Only the Pro+ model has a 32MP (theoretical) on its 2x portrait lens.
Portraits captured with the telephoto lenses are merely impressive, to the extent that is stunning! With the software emulated Zeiss Biotar effect, the bokeh, out-of-focus regions are rendered exceptionally beautiful, making the subject in focus natural and more appealing.
Girls and women certainly love it.
Of course, software tonal softening for the subject at adjustable levels is also available.
Sample Portrait Shots
The perspectives in comparison:
The 100% crops:
Click above pictures to view in full sizes.
No post-production or any modifications, any sharpening filters applied.
We could see there's technically no chromatic aberrations in the images, with absolute sharpness from corner to corner. True optical quality by Zeiss. (The fringes arise from resolvability limitations in small digital sensors - moire.)
Raw DNG Format
Yes. It gives raw DNG formats. It just takes up a lot of spaces, about 25 MBs each.
Colour Profile
I have no time to test the coverage. Files produced directly out of camera are all of Display P3 profiles. I would test it coverage with an X-Rite if I have time.
Screen - 6.56" AMOLED
The AMOLED screen is beautiful enough. It's a DCI-P3 screen with enough contrast ratio to see through details of captured images. It seems from the tests from GSM Arena that the coverage is quite accurate.
| | |
| --- | --- |
| Type | AMOLED |
| Pixel Resolution | 2376 x 1080 |
| Refresh Rate | 120 Hz |
| Brightness | ~800 cd/m2 (or nits) |
| Colour Profile | DCI-P3 |
| Contrast Ratio | 6,000,000:1 |
For full display test results here at GSM Arena.
Connectivity
A mobile device is handicap when connectivity becomes the bottleneck of any kinds of high-fidelity, be it images or audio.
5G speed: on Chinese 5G networks in major cities, a sustainable 300 Mbps+ connection speed has been achieved technically everywhere indoors and outdoors, and at least 60Mbps+ in areas with moderately weaker signal strength. It is more than adequate for most applications.

300Mbps = 37.5 MB/s = ~ 7.5 photos / sec

(5MB images direct JPEG outputs).
Wi-Fi 6: Lightning fast, with enterprise-grade access points, technically a minimum of 500 Mbps+ has been sustained at every corner, 860 Mbps+ when closer to the APs.
All speeds stated above are real-world file transfer speeds, not theoretical protocol speeds.
Photos aside, some other characteristics after 3 months of usage:
Battery Life
Approx. 1.5 days normal use
1 day with heavy use (no gaming)
< 20 hours with full day of photo taking, bright screen
~ 2 days 5 hours on battery-saving mode, normal usage, ~ 3 days sparse usage
Charging Power

USB Type-C 55W (Proprietary, not compatible with QC 3.0)

Supported Voltages: 11V 5A, 11V 3A, 9V 2A, standard USB 5V 2.4A, 1A

Charging Speed

Fast, really fast, super fast, second only to the latest Oppo phones (120W).

From 0-100%, phone off, exactly 42 minutes

From 0-70%, phone off, ~20 minutes

Chargers Available

Vivo / Oppo Proprietary 220/110V Flash Charge

Vivo / Oppo Proprietary 12V Car Flash Charge

All at affordable prices. About USD 15
However, the Vivo phones are not without its flaws:
Internationalisation - Localisation
Typical for a Chinese domestic manufacturer, except for the Google / Android operating system built-in translations, some of the manufacturer developed software do not translate exceptionally well on most languages, not even in English. Some interfaces appear suddenly in simplified Chinese. Language flaws spotted by me were: English, German, Russian. The company does need to either employ professional translators or outsource it to an international professional firm.
The Built-in Album App - Colour Profile Issue
Ironically, to quite a shame, the built-in album app defaults to view all images only in DCI-P3 profile (camera profile). If you transfer other images with embedded colour profiles other than this, such as the sRGB, Adobe RGB, or Hasselblad RGB profiles, the album app does not display images in proper colours, either subdued or over-saturated.
Solution is to use other apps for image management, which honour embedded profiles and does conversion into device profile. e.g. Google Photos, Adobe Lightroom for Mobile.
No Notification LED
Every time you have to switch on the phone screen to check if there are e-mails or instant messages. A traditional small but configurable blinking LED makes life simpler.
Final Words
Last but not least, this phone is truly revolutionary in redefining casual and semi-professional photo-taking experience. With four most practical lenses and the image quality it produces, it gives tremendous room for creativity shots as it is extremely portable, though no replacement to larger format cameras. 5G and WiFi 6 connections renders this phone tremendously responsive with technically no waiting time even when sharing the high quality images. Price is hefty but I believe it's still worth it.
I believe the even better ones are yet to come.